BLAUWE LIJN CAPBs sens TK11 (2 kanalen)
€ 136,-
Fabrikant, importeur en distributeur
Service- en kalibratielaboratorium
Cursussen, trainingen en workshops
Product description
De modulaire meetoplossing
Wat is modulair meten? In de installatie- en bouwwereld zijn we bekend met de term modulair bouwen. Met een paar soorten prefab modules kun je diverse soorten gebouwen maken met verschillende doeleinden. Snel, flexibel en kostenbesparend. Dit gaat ook op voor modulair meten. De twee CAPBs® handgrepen in combinatie met de grote selectie meetmodules zijn inzetbaar voor talloze toepassingen.
Met CAPBs® is het niet langer nodig om een veelvoud aan meetinstrumenten mee te nemen op locatie. Eén of twee handgrepen, een selectie meetmodules en enkele accessoires passen gemakkelijk in één handzame koffer. Daarnaast is een modulaire meetset ook voordeliger dan afzonderlijke meetinstrumenten.
CAPBs® sens TK11 meetmodule
De CAPBs® sens TK11 meetmodule is geschikt voor meting van temperatuur van -50 tot +1.150 °C met een resolutie van 0,1 °C. Het toestel is voorzien van twee type K miniconnectors, waarop een K-type thermokoppel (optioneel verkrijgbaar) kan worden aangesloten. Hiermee kan ook een temperatuurverschil worden gemeten.
EN 50379 deel 2 gecertificeerd
Indien deze CAPB wordt uitgelezen met een BLAUWE LIJN® meetinstrument of de CAPBs® device handgreep is deze EN 50379 deel 2 gecertificeerd. Dit betekent dat dit instrument mag worden toegepast voor alle metingen bij verbrandingstoestellen. Klik hier voor meer informatie over deze regelgeving.


---
LET OP!
CAPBs® meetmodules functioneren uitsluitend in combinatie met een CAPBs® handgreep.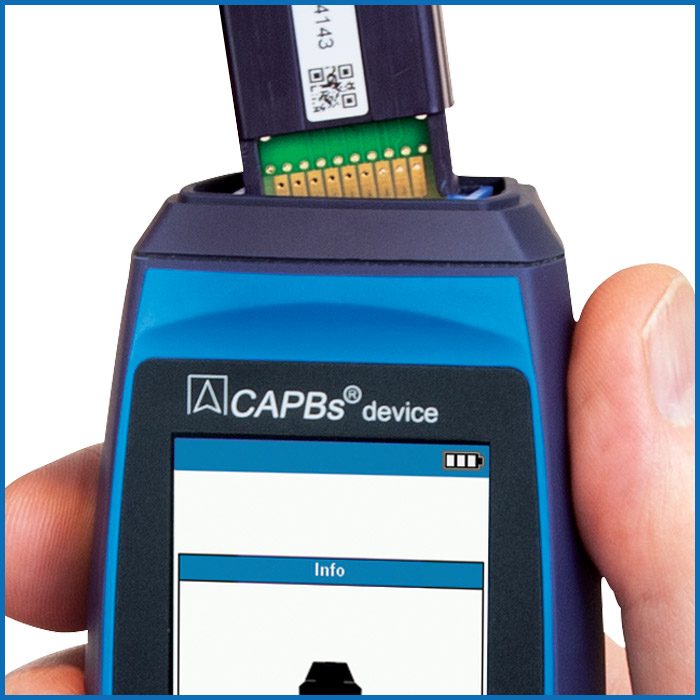 CAPBs® device handgreep
De CAPBs® device is een veelzijdige handgreep met twee aansluitmogelijkheden waarop alle sens meetmodules kunnen worden geplaatst. deze handgreep bevat een accu, een display en drie toetsen voor bediening. Klik hier voor meer info.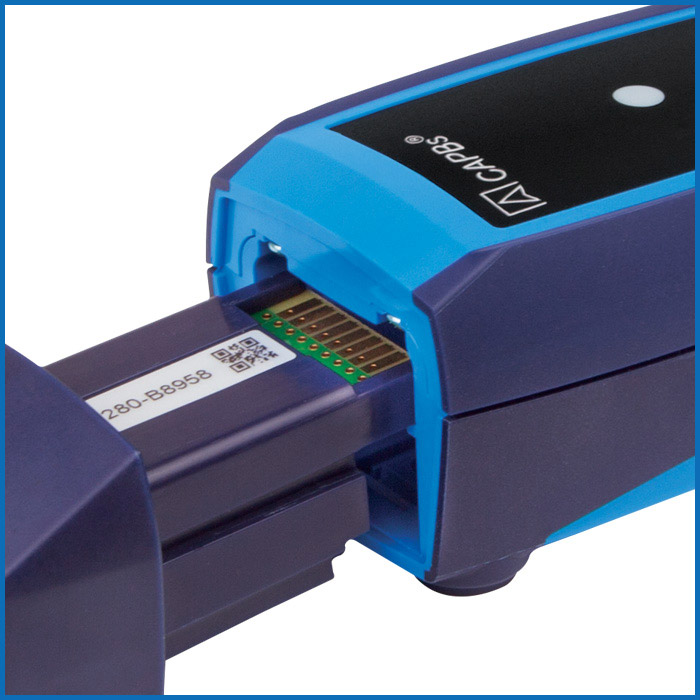 CAPBs® module handgreep
De CAPBs ® module is een slanke handgreep waarop alle sens meetmodules kunnen worden geplaatst. Deze handgreep bevat de voeding (batterijen), Bluetooth® communicatie en een meerkleurige LED die de functionaliteit aangeeft. Klik hier voor meer info.


---
EuroSoft live: de app bij de CAPB
EuroSoft live is gratis verkrijgbaar als app voor smartphones en tablets met Android en iOS besturingssystemen en als software voor Windows. Als u met EuroSoft live via Bluetooth® Smart contact maakt met een CAPBs® module handgreep worden de meetwaarden en menu's weergegeven zoals op een BLAUWE LIJN® meetinstrument, inclusief de bediening. U kunt de actuele meetwaarde(n) uitlezen, evenals de maximaal en minimaal gemeten waarde en deze presenteren in een meetrapport. Het is ook mogelijk om meetwaarden gedurende een periode te loggen met een instelbaar interval. Deze meetwaarden kan u zowel numeriek als grafisch weergeven. Bij bepaalde sens meetmodules zijn aanvullende meetprogramma's mogelijk, zoals een lekhoeveelheidsmeting (druk) of een meetfunctie voor legionellapreventie (temperatuur). Heeft uw laptop of pc geen Bluetooth®, dan is er optioneel een Bluetooth dongel verkrijgbaar.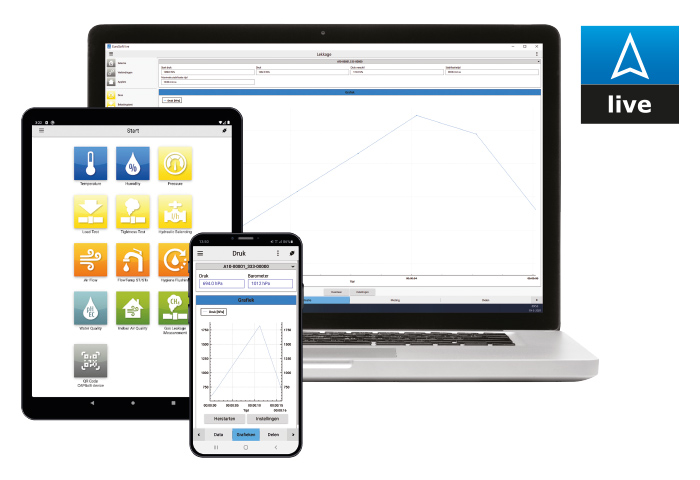 De CAPBs® device handgreep is in staat een QR-code te genereren op het display. Als u gebruik maakt van de gratis EuroSoft Live app op uw smartphone of tablet, dan kan u hiermee de QR-code inscannen en de meetwaarden opnemen in uw meetrapportage. Firmware updates van de CAPBs® device handgreep kunnen ook worden uitgevoerd met de EuroSoft live software.

Met de deelfunctie in de app kunt u een screenshot, het meetrapport of de gelogde meetwaarden delen via e-mail, WhatsApp of social media, zoals Facebook en LinkedIn. Met de EuroSoft live software kunnen meetwaarden van de CAPBs® module handgreep ook worden gedeeld.
De EuroSoft Live software kunt u GRATIS downloaden via onderstaande link:
Read more
Product information
Included accessories
Nederlandstalige handleiding en beschermkoker.
Features
Meetbereik: -50 tot +1.150 °C
Aansluitingen: 2 x Type K miniconnector
Eenheden: °C ,°F
Mogelijkheid tot meten van temperatuurverschil met twee meetsondes
Read more
General specifications
Eenheden
°C of °F
Afmetingen (L x B x D)
58 x 42 x 35 mm
Aansluitingen
2 x Type K mini connector
Certificering
NEN-EN 50379 deel 2
Gebruiksduur
i.c.m. module handgreep: Ca. 45 uur (32 uur met oplaadbare batt.)
i.c.m. device handgreep: Ca. 15 uur
Technical specifications
| | |
| --- | --- |
| Meetbereik | -50 tot +1.150 °C |
| Resolutie | 0,1 °C |
| Nauwkeurigheid | ±1,5 °C + nauwkeurigheid meetsonde |
Read more
Vergelijk producten0