BLAUWE LIJN Meetset vloerverwarming
€ 1.100,-instead of € 1.219,05
Online actie










€ 1.100,-instead of € 1.219,05
01-10-2023 up to 31-12-2023
All prices are net, per piece, excluding VAT. Subject to changes.
Product summary
CAPBs® meetset voor meting van aanvoer- en retourtemperatuur en het uitvoeren van een lekdichtheidsbeproeving bij vloerverwarmingssystemen.
Kalibratie
KWS CAPBs sens PT70, PT85 en PT86 - 999167
€ 90,-
KWS S2600/S4600 ST-12KD/TK11 - 999120
€ 90,-
KWS temp.sonde 2 punten (2 sondes) - 2 x 999532
€ 105,-
Fabrikant, importeur en distributeur
Service- en kalibratielaboratorium
Cursussen, trainingen en workshops
Product description
Met deze meetset kan u aanvoer- en retourtemperatuur meten en een lekdichtheidsbeproeving doen bij vloerverwarmingssystemen. Het set is samengesteld uit een CAPBs handgreep met twee CAPBs meetmodules en bijbehorende accessoires in een handige draagkoffer.
Temperatuurverschilmeting
Door de temperatuurmeetmodule te plaatsen, hier twee temperatuurtangen op aan te sluiten en deze op de juiste leidingen te klemmen, meet u op eenvoudige wijze de aanvoer- en retourtemperatuur en het temperatuurverschil.
Drukmeting en lekdichtheidstest
Met de drukmeetmodule in combinatie met bijgeleverde drukaccessoires kan u water/vloeistof en gasdruk meten tot 20 bar en met een compressor het systeem afpersen. Met aanvullende accessoires kan u deze module ook gebruiken voor het testen van de lekdichtheid van drinkwaterleiding of stadsverwarming.
---
Digitale meetrapportage met EuroSoft live
EuroSoft live is gratis verkrijgbaar als app voor smartphones en tablets met Android en iOS besturingssystemen en als software voor Windows. Als u met EuroSoft live via Bluetooth® Smart contact maakt met een CAPBs® handgreep worden de meetwaarden en menu's weergegeven zoals op een BLAUWE LIJN® meetinstrument, inclusief de bediening. U kunt de actuele meetwaarde(n) uitlezen, evenals de maximaal en minimaal gemeten waarde en deze presenteren in een meetrapport. Het is ook mogelijk om meetwaarden gedurende een periode te loggen met een instelbaar interval. Deze meetwaarden kan u zowel numeriek als grafisch weergeven. Bij bepaalde sens meetmodules zijn aanvullende meetprogramma's mogelijk, zoals een lekhoeveelheidsmeting (druk) of een meetfunctie voor legionellapreventie (temperatuur). Heeft uw laptop of pc geen Bluetooth®, dan is er optioneel een Bluetooth dongel verkrijgbaar.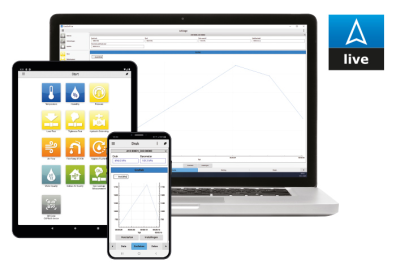 De CAPBs® device handgreep is daarnaast in staat een QR-code te genereren op het display. Als u gebruik maakt van de gratis EuroSoft Live app op uw smartphone of tablet, dan kan u hiermee de QR-code inscannen en de meetwaarden opnemen in uw meetrapportage. Firmware updates van de CAPBs® device handgreep kunnen ook worden uitgevoerd met de EuroSoft live software.

Met de deelfunctie in de app kunt u een screenshot, het meetrapport of de gelogde meetwaarden delen via e-mail, WhatsApp of social media, zoals Facebook en LinkedIn. Met de EuroSoft live software kunnen meetwaarden van de CAPBs® module handgreep ook worden gedeeld.
Meer info en download - EuroSoft live app
Meer info en download - EuroSoft live software
Read more
Product information
Included accessories
CAPBs device handgreep
CAPBs sens PT70 drukmodule 0 – 25 bar
CAPBs sens TK11 temperatuurmodule (2 x k-type)
2 x Temperatuurtang -40 tot 120 ˚C
DN5 T-stuk met kraan (max. 20 bar)
DN5 compressoradapter
Eindstop ¾" binnendraad DN5
Verbindingsslang 20 bar DN5 (m/f)
Sortimo draagkoffer
Handleiding
Features
CAPBs device handgreep:
Montage van sens meetmodule aan boven- of onderzijde
Groot kleurendisplay
Bluetooth® communicatie
Nederlandstalige menugestuurde bediening met slechts 3 toetsen
Meetrapportage via EuroSoft live app en/of software
Li-Ion accu
Gratis firmware updates
Geschikt voor bevestiging op metalen oppervlak (magnetisch)
CAPBs sens PT70:
Meetbereik: 25 bar
Aansluiting: DN5 male
Eenheden: bar, kPa, psi
Medium: Vloeistoffen en agressieve gassen
CAPBs sens TK11:
Meetbereik: -50 tot +1.150 °C
Aansluitingen: 2 x Type K miniconnector
Eenheden: °C ,°F
Mogelijkheid tot meten van temperatuurverschil met twee meetsondes
Read more
Technical specifications
CAPBs sens PT70:
| | |
| --- | --- |
| Meetbereik | -1 tot 25 bar |
| Resolutie | 0,1 bar |
| Nauwkeurigheid | 0,5% full scale ±1 digit |
| Eenheden | kPa, bar, psi |
CAPBs sens TK11:
| | |
| --- | --- |
| Meetbereik | -50 tot +1.150 °C |
| Resolutie | 0,1 °C |
| Nauwkeurigheid | ±1,5 °C + nauwkeurigheid meetsonde |
| Eenheden | °C of °F |
Temperatuurtang:
| | |
| --- | --- |
| Meetbereik | -40 tot +120 °C |
| Nauwkeurigheid | ±1 °C (-20 tot +85 °C) |
| Buisdiameter | 5 tot 36 mm |
| Lengte snoer | 180 cm |
Read more
Vergelijk producten0